SOUNDSEEING – Seeing and hearing art
March to August 2023: Sound art festival in the Münsterland
Extraordinary sounds at cultural venues in Münsterland. This has been the hallmark of the nationwide unique sound art festival SOUNDSEEING for more than 14 years. From Rheine to Münster and from Hörstel to Bocholt, top-class sound art can be experienced at authentic locations throughout the Münsterland and the city of Münster. The festival begins at Kulturgut Haus Nottbeck in Oelde with the exhibition "Autokult Sketch Trübung", which students from the Suchan Kinoshita class at the Münster Art Academy are developing on site. The "exhibition square" on Münsterland continues with a retrospective of the famous Dutch sound artist Paul Panhuysen from the beginning of May in the Kunsthalle Hawerkamp. Works by Peter Vogel & Achim Vogel can be seen and heard at Burg Vischering in Lüdinghausen from the end of May, and a solo exhibition by Nigerian artist Emeka Ogboh opens in June at DA, Kunsthaus Kloster Gravenhorst. In addition, there are playable installations, concerts and workshops in the Künstlerdorf Schöppingen, the Kreativhaus Altenberge, the rock'n popmuseum Gronau, the ArtandTechSpace Rheine, the Landesmusikakademie NRW Heek, the Musikhochschule Münster and in the city centres of Ibbenbüren and Bocholt. They enchant audiences with poetic sound objects, space-filling sound installations, interactive listening instructions and novel concert forms.
SOUNDSEEING for people with visual impairment
We want people with impaired vision to be able to experience the sound art festival. Therefore, we offer barrier-free usage options on our website.
We have marked events and venues that are particularly suitable for people with visual impairments with this symbol.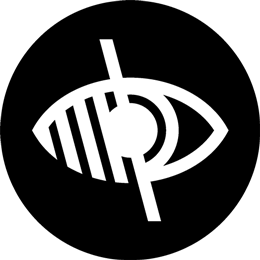 Feel free to contact us if you would like to know more about the respective offers!